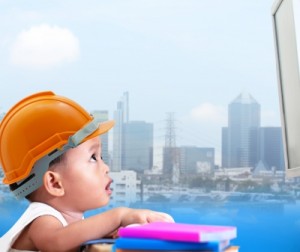 Jobs aren't the only thing weighing on engineers minds this Christmas. Engineers, like every other adult, have set their sights on finding the perfect holiday gifts for their friends, neighbors, nieces, and nephews. Presents are an excellent opportunity to get creative and teach kids about the importance of problem solving. If you're looking for a gift that's fun gift for the child in your life, use this opportunity to build the foundations of critical thinking – without your kid even realizing it.
How Toys Build Future Engineers
When you give kids engineering-based toys during their formative years, you're helping them the develop the creativity, critical thinking, and problem solving skills that will carry them into their future careers. Engineers in training need to test things out for themselves. Help kids develop their inner innovators by investing in a Build a Helicopter kit, a mini microscope, or a classic construction toy like legos this Christmas season.
Encouraging Girls to Develop their Passions
Young girls and boys show similar interest in building-based toys in their elementary years, but by high school the number of girls interested in STEM jobs drops significantly. Toy company GoldieBlox seeks to change that by marketing engineering toys exclusively to girls. If you have a little builder on your hands, flip through their website to find a "inventor girl" doll, build your own spin machine kit, or cutesy chemistry set to put under her Christmas tree this year.
Once you've crossed off your family's Christmas list, you can take care of your own. Fill out our career wish list and help Engineering Search Partners find you the new engineering position that will utilize your skills and push your talents to a whole new level.