We support a wonderful Orphanage in Guntur, India… 5% of our Profits Go DIRECTLY to building a New School and Dormitory for these Deserving Kids!
Why this Ministry?
In the fall of 2006, I joined a team of Architects, Engineers and Surveyors with Engineering Ministries International eMi to develop a Master plan of an Orphanage in Guntur, India. This orphanage was greatly expanding to meet the need of the kids in the local community.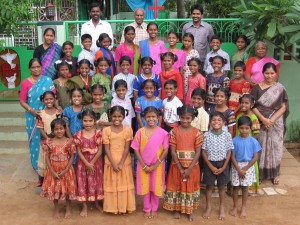 34 Kids in Your House?
Yes, at the time of our visit, there were 34 kids living in a house that is similar to a Mid-Size house in the US…. 8 Children slept on the Living room Floor!
So, after too many years of THINKING about helping Financially, I've decided to Pledge 5% of the profits from this firm to help build this School and Dormitory that we planned so many years ago.
Feel free to join us too, if you would like to support this wonderful Ministry!
Contact us at: CHARITY@recruitonpurpose.com