First the skinny craze hit women's fashion magazines. Then it migrated to smartphones and personal computers. Now the skinny fad has a new target: skyscrapers. Breakthroughs in structural engineering technology have led to a number of innovations in twenty-first century construction. Thanks to the creativity of designers and architects, we can now build 3D printed structures, self-sustaining buildings, and more. So why have skinny structures suddenly boomed in popularity?
Skinny Appeal
It's not hard to ascertain why skinny skyscrapers are a trend among engineers. Accounting for the height of these matchstick buildings without spreading a broad foundation has taken some serious ingenuity. The engineers of One Madison Park in NYC, for example, designed a support system that utilizes rooftop liquid mass dampers and shear walls embedded in the core of the structure. Skinny skyscrapers hold appeal for developers as well. These innovative city buildings allow developers to create big profits with a miniscule amount of property. They're easy to market, too. Not only do businesses, renters, and buyers appreciate the rare quality of this new building fad, developers can market skinny skyscrapers as an opportunity to quite literally touch the clouds.
Skinny Structures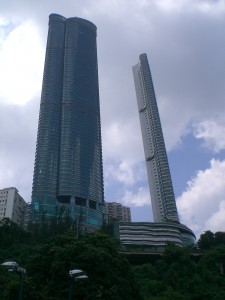 Although skinny skyscrapers are a relatively new phenomenon, the idea has taken root in cities across the globe. New York, Melbourne, and Hong Kong  have all seen the benefits of these tall, narrow structures.
In addition to One Madison Park, New York City is developing the 111 West 57th Street building, an engineering marvel with a projected 1:23 aspect ratio that will tower nearly 100 feet over the Empire State Building.
Melbourne's first skinny tower, Phoenix Apartments – just 22 feet wide and 80 feet deep – uses a water ballast tank on the roof to lend stability in high winds.
DLN Architects & Engineers have taken Hong Kong's skinny structures and tall towers to a new height. At 75 stories (70 of which contain liveable space) the Highcliff building is the tallest all-residential structure in the city.
Do structural engineering marvels get your gears turning? Call Engineering Search Partners to find an the engineering career that will stimulate your creativity and utilize your skills to the fullest.